The National Association of Civic Officers has promoted the Civic Office of the Year Award since 2003 and the Award has been won by a range of Councils from a very large City Council to a small Town Council with a part time Civic Officer.
The award was last made for 2018 and the basic criteria are Quality and Innovation, Value and Promotion of the Office of Mayor/Chairman.
2020 Award
It was decided after this for there to be an award every other year so it was planned to have an award for 2020.
However, the award for 2020 had a different approach and was unique in that it was felt that because of the pandemic there had been a new way of working in civic offices and it was decided to have a one off competition to reflect this. It was divided into two sections, one showing how offices had adapted and one how they were going to move forward.
Both parts were won by the London Borough of Barnet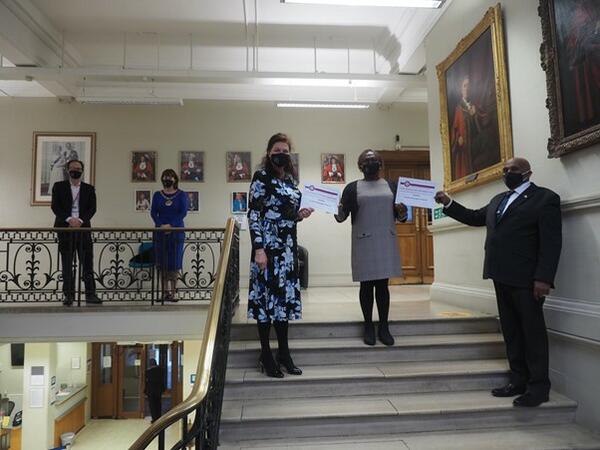 More information about how the awards were judged and won prior to 2020 is below. NACO is looking at the future awards with the intention of having another competition for 2022
Judging
The criteria on which entries were judged include:
Quality and Innovation
In the service you provide to your Mayor/Chairman

In the service provided to your Council

In the service provided to your Community
Promotion of the Office of Mayor/Chairman
In your Council and/or Community
Value
How you have used your resources to best effect?
How to Enter
Don't wait for others to do it for you, nominate your own civic office!
Entry is simple - "no more than 10 pages of A4 (either electronic or hard copy) (please note that anything from page 11 onwards won't be judged!)"
In future this Award will be held every other year and the next competition will be launched in the Autumn of 2022 the award for the Civic Officer of the Year 2022 being presented in the Spring of 2023.
For further information about the award scheme please contact the Secretary at secretary@naco.uk.com
Previous Winners
2018
The 2018 Winner was Tunbridge Wells Borough Council. The picture below shows Katie Neve and Caitlin Willmott of Tunbridge Wells Borough Council being presented with the Award by Vanessa Etheridge of Sevenoaks District Council, the previous winner, and Christine Christensen on behalf of NACO.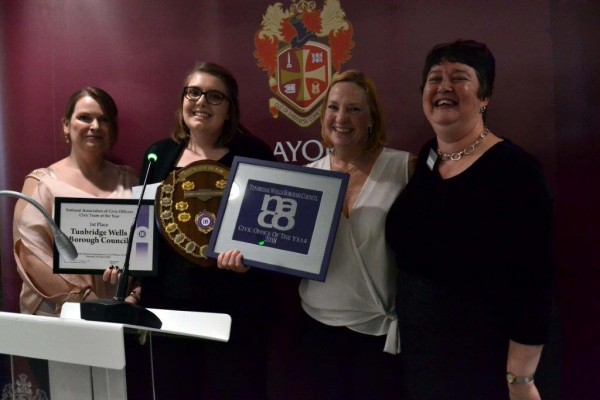 This is Tunbridge Wells' submission
2017
The 2017 Winner was Sevenoaks District Council. The picture below shows Vanessa Etheridge from Sevenoaks being presented with their award by Kevin O'Keefe of the City of Wolverhampton Council, who were the previous winners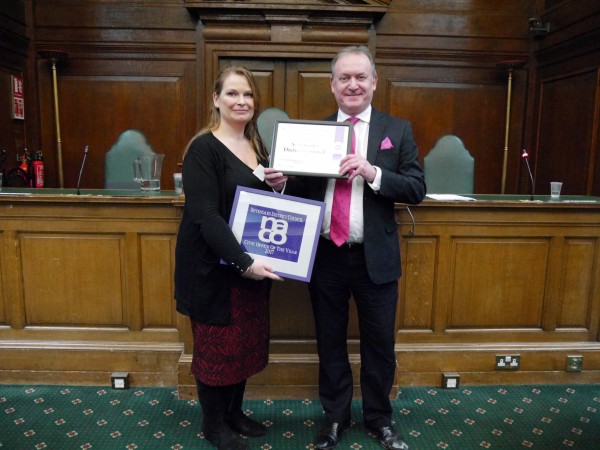 | | |
| --- | --- |
| 2016 | |
| 2015 | |
| 2014 | |
| 2013 | |
| 2012 | |
| 2011 | |
| 2010 | |
| 2009 | |
| 2008 | |
| 2007 | Cambridge City Council |
| 2006 | Derby City Council |
| 2005 | Prestatyn Town Council |
| 2004 | Blenau Gwent Borough Council |
| 2003 | Liverpool City Council |
And the first winner for 2002 was the Royal Borough of Kensington and Chelsea.