Friday 11 March 2022
NACO is hoping that as many civic leaders as possible will all, on the same day, plant a tree to mark The Queen's Platinum Jubilee.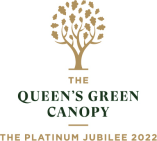 The day chosen is Friday 11 March 2022 - the seventieth day of the year in which The Queen marks the seventieth anniversary of her accession. It has the full support of The Queen's Green Canopy project organisers.
Many Councils are already giving the Canopy project their support and have started to plant or will be planting trees. This Civic Tribute does not need to be yet another new planting. If trees are about to go into the ground, perhaps the last one can be held back until 11 March, when it can be planted by your Civic Head, as his or her tribute to The Queen in Her Majesty's Jubilee Year, which begins during their term in office.
It would be great if as many Council Chairs, Lord Mayors, Mayors, Lord Provosts and Provosts could take part, drawn from parishes, towns, districts, boroughs, cities and counties across the UK. In fact, it is essential that a good number take part or this just won't work.
What is needed at this stage is simply an indication that your Council is likely to take part. To do this just email events@naco.uk.com with the name of your Council and saying 'yes, we are hoping to take part / yes, we will take part'.
Towards the end of January we will contact you and at that time we will ask for some more information. We will then prepare a bound book that will include (alphabetically) the names of all Councils taking part, with the name of the person planting the tree alongside the office they hold, the type of tree planted and a few words saying where it was planted. The book will then be sent to The Queen, probably for the Platinum Jubilee weekend in June.
There are close to 11,000 parish, town, district, borough city and county councils in the UK. If just half of them take part, the equivalent of a small forest will be planted on Friday 11 March. If all of them take part, it will be close to a world record for a simultaneous tree-planting!
Register Your Interest
To register your Council's interest in taking part, or simply to find out more, send an email to events@naco.uk.com with the name of your Council and saying either:
Yes, we are hoping to take part; or
Yes, we will take part'; or
Please send me further information.
For all of this to happen, NACO needs your help. Please do all you can to make it a success.